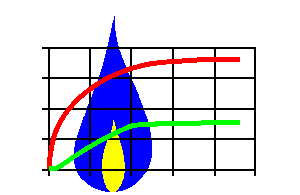 GASPurge™ is a web-based subscription service that calculates values associated with purging or clearing a natural gas pipeline. The service was developed in collaboration with and is distributed under license of GTI. Some of its features include...
No Installation or Setup - The service is hosted on our server, meaning there is nothing to install. Simply purchase a subscription, register for an account, and start using the service.
Calculation Wizard - The service is laid out in a "wizard" format for entering data and calculating results. Each "step" in the wizard represents a different component of the purge setup.
Multiple Configurations - The service can simulate different purge configurations, allowing calculations for scenarios, such as gas introduced through an inlet pipe or through an in-line valve. Input data and results can be saved to a local hard drive, allowing for testing and comparison of different scenarios.
Mobile - The service can be accessed from any web-enabled device, and is compatible with most modern browsers.
Excel Reports - Save results to a Microsoft Excel format file (XLSX) or to a Comma-Separated Values format file (CSV).
Multiple Users - Because of its web based implementation, multiple Users may easily access the service without cumbersome license management.
Pricing & Licensing - GASPurge is licensed on a subscription basis, with renewal payments due annually. Pricing starts at $995 USD per year per concurrent User license. Discounts are offered for the purchase of six (6) or more licenses. Click here to display all pricing options and an order form. Complete and return the form or contact us to purchase a subscription. Please note, listed prices are subject to change without notice.
Maintenance & Updates - Maintenance is included with the price of a subscription. Updates are automatic, ensuring that the latest revision of the service is always being used. Technical support is provided by way of telephone or email communication at no additional fee.